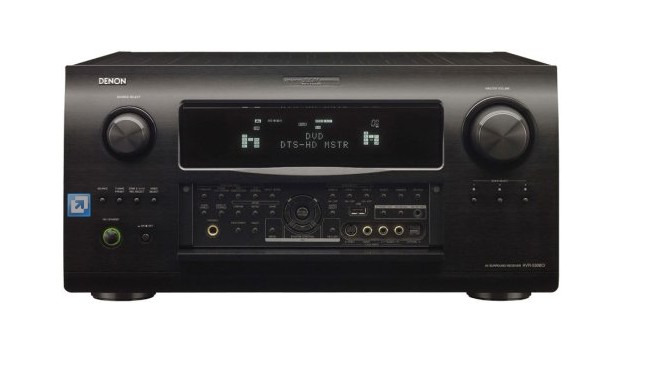 – Upgrade Will Add Leading-Edge Feature Capabilities, Including 3D Pass-Through, Audyssey MultEQ XT32, Audyssey DSX and Dolby PLIIz –
Mahwah, NJ, February 18, 2011 — Denon Electronics, a premier manufacturer of high-quality home entertainment components celebrating 100 years of innovation and technology leadership, will offer owners of its flagship AVR-5308CI A/V Receiver and AVP-A1HDCI A/V Home Theater/MultiMedia Preamplifier the opportunity to receive a major hardware and firmware upgrade that will provide full 3D pass-through capability, as well as Audyssey MultEQ XT32, Audyssey DSX and Dolby PLIIz. This is the 4th significant upgrade that Denon has offered to owners of its high-end products, underscoring the company's commitment to provide its customers with the very latest, most up-to-date features and capabilities. The upgrade is scheduled for October; for more details on the upgrade, Denon owners may visit the company's website (usa.denon.com/upgrades) and sign up to receive informational email updates.
"We are very excited to bring these leading-edge features to owners of our flagship AVR-5308CI A/V receiver and AVP-A1HDCI Preamplifier," noted Jeff Talmadge, Director, Product Development & Systems Integration, Denon Electronics. "Early adopters who purchased these components nearly 4 years ago bought them with the confidence that they would experience the very best home entertainment for years to come. This upgrade opportunity is yet another example of how Denon is committed to ensuring that our customers are 'future ready' and remain at the leading edge of all the latest performance-enhancing technologies."
What the Firmware Upgrade Provides
In addition to full 3D pass-through capability, which will allow AVR-5308CI A/V and AVP-A1HDCI owners to enjoy the growing roster of 3D movies now becoming available, the firmware upgrade includes Dolby Pro Logic IIz decoding for enhanced audio experience of front height channels. For an even more dramatic surround sound experience, Denon owners will be able to take advantage of Audyssey DSX with left and right height and width channels – a new set of algorithms that pushes the envelope in audio performance by synthesizing audio signals for new surround channels based on human perception and acoustical research. The result is a much more realistic and "present" soundscape, with more audio "depth," ideal for both movies and music, with height and width channels that are integral to maximum performance of next-generation high-definition surround-sound systems.
The firmware upgrade also features Audyssey's advanced MultEQ XT32 room acoustic correction system features a microphone (included) to automatically measure the speaker configuration and provide acoustic tailoring for the best surround sound experience, and provides quick and easy setup. MultEQ XT32 is 32 times more accurate than the base MultEQ XT system it replaces with this upgrade.
For more information on Denon, visit http://usa.denon.com. For Denon 100th Anniversary and other news, visit http://www.denon100.com and http://usblog.denon.com. Become a fan of Denon on Facebook at http://www.facebook.com/denonusa or follow Denon on Twitter at http://twitter.com/denonus.
# # #
About Denon Electronics
Denon celebrates its 100th Year Anniversary in 2010, carrying on its tradition of excellence with a renewed commitment to the highest quality home theater, audio and software products. Denon is recognized internationally for innovative and groundbreaking products and has a long history of technical innovations, including the development and groundbreaking commercialization of PCM digital audio. Denon Electronics is owned by D&M Holdings Inc.
About D&M Holdings Inc.
D&M Holdings Inc. is a global operating company providing worldwide management and distribution platforms for premium consumer, automotive, commercial and professional audio and video businesses including Denon®, Marantz®, McIntosh® Laboratory, Boston Acoustics®, Snell Acoustics, Escient, Calrec Audio, Denon DJ, Allen & Heath, D&M Professional and D&M Premium Sound Solutions. Our technologies improve the quality of any audio and visual experience. All product and brand names with a trademark symbol are trademarks or registered trademarks of D&M Holdings, Inc. or its subsidiaries. For more information visit www.dm-holdings.com.
DISCLAIMER
Statements in this news release that are not statements of historical fact include forward looking statements regarding future events or the future financial performance of the company. We wish to caution you that such statements are just predictions and that actual events or results may differ materially. Forward looking statements involve a number of risks and uncertainties surrounding competitive and industry conditions, market acceptance for the company's products, risks of litigation, technological changes, developing industry standards and other factors related to the company's businesses. The Company reserves all of its rights.