Here is short list of MP3 gizmos we think you should check out. If you are in the market for an in car mp3 adapter, some nice iPod docks, or feel a little lonely with your Sony MP3 player in this Apple and Microsoft world, here are some suggestions for you.  These are popular items that others are checking out, actually doing their part to keep our economy afloat and purchasing some products.
- AudioReview.com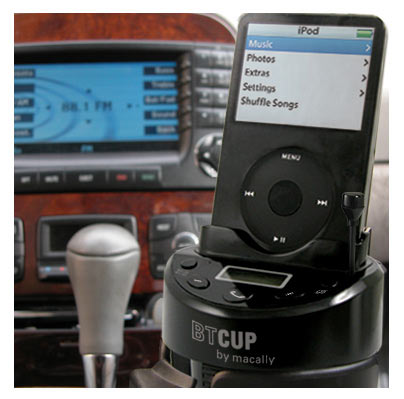 Check this little gizmo out.  Macally makes them for your iPod or Sansa MP3 player.  It will charge your player as well as send music over the airwaves to your radio.  Be your own radio station, in the privacy of your own car so the FCC doesn't go all Pump Up the Volume on you.
See more Macally MP3 accessories
iLuv, also known as JWIN, has a ton of great MP3 player stuff.  Most of their designs are very slick and fashionable and can fit right in with any modern home design.  The iLuve i199 is an AudioReview.com Editorial pick for the Best MP3 Player Speakers.  To see more of iLuv/JWIN's gear go here.
2) iLuv i199

0 reviews
0 of 5
MSRP: $ 199.00

0 Reviews
0 Quick Ratings
5 of 5

Description:

Plays back your Audio CDs and MP3 CDs with the slide-in CD loading mechanism
Digital clock display with dual alarm
Plays MP3 files stored on a USB storage device, such as USB MP3 players with USB connector
BluePin audio transmitter / receiver
Connector type – 1 x Docking station, 1 x USB, 1 x Headphones
Receive and play the music wirelessly from your audio device with Bluetooth wireless technology, such as MP3 music players, MP3 mobile phones, laptops, etc

More Products from iLuv >>
Search AudioReview forums for the iLuv i199 >>
See more iLuv/JWIM MP3 Accessories
The Sony CPF-NW001 isn't too popular here in the States but they are around and you should check them out if you have a Sony MP3 player.  Amazon reviewer By Julikat (Surrey, UK) give the player 5 stars and has this to say about it.
"This fantastic little system turned up this morning, and 12 hours later, what can I say?? I LOVE it, I'm going to marry it and have its babies! The sound is excellent and the range is unbelievable when you consider how small it is! I played my Sony A808 in it and was blown away."

The Onkyo DSA2X iPod Docking Station is a simple to use little port that gives you a remote control, charging, place for your iPod.  It can connect to your home music system with RCA plugs or your TV for video play back or picture slide shows.  Not the most advanced little peice of equipment but it is a simple, easy to use, no nonsence, good looking docking station that doesn't limit you to speakers or screens that are too small for happyness.