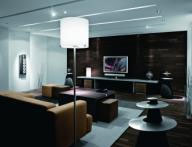 Expanding the company's presence with third store to open in Texas
AUSTIN, Texas, Aug. 13 /PRNewswire/ — Bang & Olufsen, the global manufacturer of exclusive, high-end audio and video products, together with 1818 Retail Opportunities LLC, a Texas-based electronics custom installation company, announce the arrival of Bang & Olufsen's newest showroom in Austin in the bustling 2nd Street District. The store signifies Bang & Olufsen's continued expansion in North America, namely in Texas, as it joins two other showrooms in Houston and Dallas, both owned by 1818 Retail Opportunities LLC. A grand opening customer event honoring the new store will take place this fall 2009.
The 1168 sq. ft. Bang & Olufsen 2nd Street store features the world renowned BeoLiving concept – Bang & Olufsen's solution to providing customized audio and video products that connects lighting, draperies, and various environmental control modules to suit each customer's lifestyle all with the touch of one remote control. The BeoLiving room allows for a sleek, modern setup to maximize the experience, making it an ideal area for meeting with clients and prospects to demonstrate the full capabilities of Bang & Olufsen's integrated and customized systems.
"Bang & Olufsen has long since been a purveyor of creating unparalleled, high quality, audio and video systems that are a pleasure to experience," said Zean Nielsen, President of Bang & Olufsen America, Inc. "The 1818 Retail Opportunities LLC team has been a strong partner of ours for many years and we are proud to further expand B&O's tradition of excellence in design and technology in the Austin area."
"Austin is a thriving city and a natural fit for a Bang & Olufsen showroom," said Josh Levy, President of 1818 Retail Opportunities LLC and owner of the new 2nd Street store. "We are confident that this store will represent the Bang & Olufsen name well in Austin, and appeal to a broad range of new customers."
The 2nd Street showroom also showcases the full Bang & Olufsen product line, including its new BeoTime alarm and desk clock, due to arrive in stores just in time for the grand opening. BeoTime makes a unique bedside or desk clock, ideal for the home or office. BeoTime features a sensi-touch mechanism which lights up the display from a simple touch anywhere on the unit. In addition to the time and alarm functions, for B&O enthusiasts, BeoTime conveniently has a built-in sleep timer which can switch all Bang & Olufsen equipment in the room to standby after a selected time interval of up to 120 minutes. One can also use BeoTime for basic remote operation of such things as bedroom televisions, loudspeakers, or light control.
The grand opening event this fall will be a cocktail reception open to new Bang & Olufsen customers in the Austin area. For more information on the event and to RSVP, guests can call the store directly at 512-481-1818.
About Bang & Olufsen a/s
Bang & Olufsen was founded in Struer, Denmark, in 1925 by Peter Bang and Svend Olufsen, two young engineers devoted to high quality audio reproduction. Since then, Bang & Olufsen has become an icon of performance and design excellence through the strongest possible commitment to a combination of high-tech research and development and a long-standing craftsmanship tradition.
Still at the forefront of domestic technology, Bang & Olufsen has extended its comprehensive experience with integrated audio and video solutions for the home to other areas such as the hospitality and automotive industries in recent years. Consequently, its current range epitomizes perfect sound and vision in the home as well as in the car and on the move. Further information about Bang & Olufsen a/s is available from www.bang-olufsen.com.
About Bang & Olufsen America, Inc.
Headquartered in the Greater Chicago Area, Bang & Olufsen America, Inc. is a wholly owned subsidiary of Bang & Olufsen a/s of Struer, Denmark. It was founded in 1970 and provides support and development for 50 retail showrooms in the continental US, Mexico, Dominican Republic, and Canada, as well as ten showrooms in South America.
About 1818 Retail Opportunities LLC
1818 Retail Opportunities LLC, a Texas-based custom installation company, has been in business for 30 years specializing in high-tech equipment, custom installation, and home-theater systems. The company has locations across the country, and has been involved with Bang & Olufsen for seven years as an independent dealer.
source: prnewswire.com