Axiom Audio Celebrates 30th Anniversary
Commitment to Research, Innovation and Excitement All Present At Festivities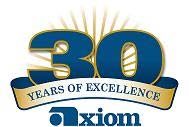 Muskoka, Ontario (September 23, 2010)- Axiom Audio, a leading online loudspeaker and home theater company, recently celebrated its 30th year in business with a party for its customers and employees.
The company was founded by Ian Colquhoun in 1980 in a friend's garage.  From there, he grew his business through determination and an early commitment to research.  Having been introduced to the National Research Council's testing facilities by Sound & Vision (Canada) Editor Alan Lofft, Colquhoun was an integral part of research performed throughout the '80s and '90s that changed the way the world measured loudspeakers.
It was this research, which is still ongoing today, together with numerous manufacturing and design innovations, that gave the young Canadian company an edge in a highly competitive market.
In 2000, the company started an online store and Colquhoun immediately fell in love with the open communication available with his customers.  "We didn't have to rely on what a dealer thought customers wanted," comments Colquhoun.  "We could simply ask the customers what they wanted on our forums, on the phone, or through emails.  And believe me, they had lots to say!"
The results forever changed the way Axiom did business.  The company took advantage of having its own manufacturing facilities and quick turn-around times to introduce more finishes – currently numbering over 100 choices for each model – and have created numerous new products designed specifically for their own customers.
Recent examples include the VP180, a "monster center channel" that has even the most particular critics raving about the clarity of sound, as well as a complete line of in-wall, on-wall, and in-cabinet speakers for custom installations.
The party allowed Colquhoun to meet some of those customers in person for the first time.  On a recent perfect September Saturday, staff and friends gathered to celebrate the 30th Anniversary at the company's remote headquarters in the Muskoka region of Canada.
Over 70 people from all over North America who had previously only been "virtual friends" on the Axiom message boards, braved the local wildlife to take up residence in rustic cabins, attend workshops on speaker design and development, partake in a double-blind listening test and more.
There were looks at Axiom's museum of speakers, containing models dating back through  30 years of design and development, which the company has collected back from early customers.
As well, the company offered factory tours that included a stop inside Axiom's anechoic chamber, a world-class piece of research equipment and one of very few held by private audio companies in North America.
The celebration continued at founder and president Ian Colquhoun's dock, where a live band played through a setup of Axiom's flagship M80 speakers and A-1400 amplifiers.   Colquhoun has always emphasized the importance of creating an exciting home theater or musical experience for his customers, and the live band embodied that principle for all present.
"Amazing!  Eight M80′s driven by 4 A-1400′s at head rattling levels and they didn't break a sweat," commented A401Classic, Axiom message board member since 2006, who travelled from New Orleans for the event.
One of the few Canadian loudspeaker companies to remain privately held, Axiom Audio  is truly a success story in today's uncertain economic climate.  Axiom looks forward to another 30 years of excellence by design.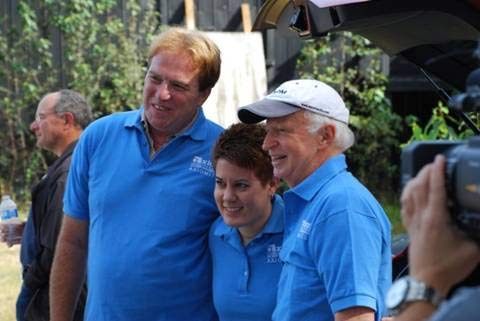 Pictured, President and Founder Ian Colquhoun, left, with Axiom Fan SonicFox from Iowa, and audio guru Alan Lofft.  SonicFox had matching shirts made for 30 visitors to the anniversary celebrations and presented them as a surprise to Colquhoun and Lofft.
About Axiom:
Today's Axiom speaker line offers a wide range of compact and floor-standing models that move the benchmarks further than ever. Axiom now produces eight-sided seamless cabinets with the ground-breaking Anti-Standing Wave (ASW) wedge-shaped design, esoteric aluminum-cone and titanium drivers, and internal crossover network innovations.
Axiom has combined the results of its acoustical measurement and listening tests to build a complete line of stereo and home theater loudspeakers. By emphasizing the practical application of ongoing research, Axiom continues to extend people's expectations of performance and value. Indeed, Axiom's most expensive tower speaker, the six-driver M80, is just $1,380 per pair. Complete Axiom home theater surround sound systems range from $1,100 to $8,000.
Utilizing the most advanced manufacturing equipment in the industry, critically acclaimed
Axiom Audio is one of the world's finest loudspeaker designers and manufacturers. Axiom Audio is a division of Colquhoun Audio Laboratories. For further information about the company and its entire product line, please visit www.axiomaudio.com
Axiom products can be ordered on-line at Axiom's Web site www.axiomaudio.com or by phone through the Axiom toll-free number: 1-866-244-8796. Axiom loudspeakers are sold via their website, and the prices shown for each country include shipping costs to the customers' door.
source: axiom