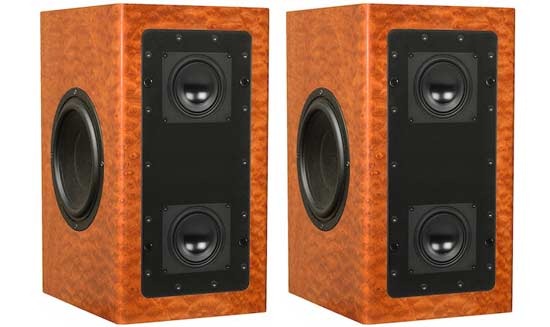 San Marcos, CA, May 31, 2011 – The Home Entertainment Show promises to be one of the most exciting audio and home theater shows in years. Audience will be there with an exceptional lineup of ultimate-performance products including the acclaimed ClairAudient 2+2 loudspeakers, and a complete lineup of components, cables, power conditioners and accessories.
Audience will be demonstrating a complete music system at T.H.E. Show at the Newport Beach Hilton, Newport Beach, CA, Room 417 (June 3 – 5, 2011). Audience will also be supplying speakers for the live jazz performances throughout the show. Sponsored by Stereophile, The Absolute Sound and The Los Angeles and Orange County Audio Society, T.H.E. Show will be open to the public and will feature live jazz, wine tastings and even a classic car show in addition to more than 120 exhibitors.

The ClairAudient 2+2 is a bi-pole (front- and rear-radiating design) that measures just 14.5 inches high by 7.875 inches wide by 10.25 inches deep, yet delivers surprisingly expansive sound. In The Absolute Sound/HiFi+ Guide to High-Performance Loudspeakers (April 2011), Dick Olsher commented, "The ClairAudient 2+2 is by far the most enjoyable, musically compelling mini-monitor I've auditioned to date."
The ClairAudient 2+2 incorporates the proprietary Audience A3-S full-range driver, which eliminates the need for crossovers and disparate drivers to deliver exceptionally coherent, musically natural performance. The 2+2 also utilizes exclusive SSIT SweetSpace TM Imaging Technology, that provides an expanded listening area rather than the usual single listener sweet spot.
Although just 3 inches in diameter, the A3-S drivers provide extremely flat frequency response in the 2+2 from 40Hz to 22kHz eliminating the need for a separate woofer, midrange driver, tweeter, and crossover network. As a result the inherent problems of integrating multiple sonically dissimilar drivers and the accompanying phase distortions, loss of resolution and transient response degradation of a crossover network are completely avoided.
The A3-S driver features a large patented neodymium-magnet motor structure and voice coil that moves with a highly linear excursion. It utilizes an exclusive rigid lightweight anodized aluminum-magnesium alloy cone material with a curvilinear shape. Other refinements include a concave dust cap that is specially designed to control high-frequency cone breakup and provide optimum dispersion; a patent-pending surround with a unique "S" shape that allows the driver to behave more like an ideal pistonic (back and forth) radiator; a rigid patent-pending basket (frame) that eliminates sonically degrading resonances, a spider (the circular piece that holds the driver's voice coil in place) that allows unrestricted cone movement and many additional enhancements.
Designed, engineered and handcrafted in the United States, the Audience ClairAudient 2+2 loudspeaker is currently available in a variety of striking, exotic wood veneer finishes at a suggested retail price of $5,000 per pair.
The ClairAudient 2+2 will be demonstrated at T.H.E. Show Newport Beach 2011 as part of a complete Audience music system including the Audience-modified Oppo BDP-83SE Blu-ray player, AdeptResponse aR6-TS and aR12-TS power conditioners, Wavemaster buffered autoformer preamplifier, prototype Wavemaster Class D monoblock power amplifiers, Au24e cables, Au24 powerChords and other components.
# # #
About Audience
Audience was formed in November 1997 by John McDonald and the late Richard Smith, as a design and production company focused on building the best possible audio and video equipment. To pass the Audience test, each product must truly make a significant contribution to the reproduction of audio and/or video. Audience offers loudspeakers, electronics, cables, power conditioners, high-resolution capacitors and the Auric Illuminator optical disk resolution enhancement.
Audience's commitment is to develop the very best products possible, and the company is committed to unexcelled customer service and product support. All Audience cables have an unconditional lifetime warranty and power conditioners have a ten-year warranty. For more information visit www.audience-av.com.